Microsoft Teams Premium is here, and is bringing a new boost in users signing up for the service. Here is a refresher on one of the more salient concerns about shared channels in Microsoft Teams regarding whether guest users can be added to them.
In a nutshell, shared channels are online spaces in Microsoft Teams meant to facilitate and enable collaboration with users inside or outside your organization or business.
These channels can, in turn, be shared with other users and teams, hence the name.
However, what about guest users?
Guest users in shared channels
The short answer is that guest users cannot be added to shared channels, and if you share a channel with a team that has guests in it, they will not be able to access it.
However, worry not since a workaround exists for it, which is easy enough.
The workaround
You can enable guest users to access a shared channel by sharing a channel with them. What does that mean? Allow me to explain.
The minimum condition for this is that the guest you are aiming to invite needs to have at least a work or school Teams account in Microsoft 365.
If they do, locate the channel you want to share with the guest user and select More options More options button > Share channel > With people.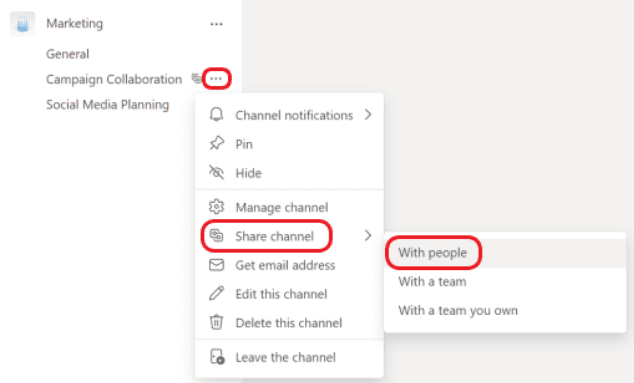 Once that is done, write the email address of the guest you want to invite, select it and then choose Share.
However, that is not all that is required.
Your organization and the business that the guest user belong to should also have a B2B direct connect in place by an admin.
What is a B2B direct connect?

It is a feature in Microsoft Teams set up by admins. It allows users and members from one Microsoft 365 organization to share a channel with users, members, or teams from another Microsoft 365 organization.
Alternatively, you can save yourself the hassle and enable sharing channels with external organizations.
The B2B direct connect default setting is restricted to block all organizations for security purposes.
However, by changing the default settings to allow all organizations, guest users from different organizations will be able to collaborate in shared channels without the hassle of your organization having to set up a separate configuration for each organization that it wants to collaborate.
This process is a two-way street since the other organization, with the guest users you want to invite to your shared channel, will also have to change its B2B direct connect settings.
Once done, however, allowing general collaboration leads to some advantages and conveniences such as saving time, expediting operational delay, reducing complexity in organization management, eliminating redundant operational processes and generally removing barriers to communication and collaboration.
All this will allow faster work to be done in real-time without the red tape that impedes organization workings.